Wendy is currently working with some of Hollywood's biggest celebrities and America's most powerful moguls on their book projects: While discretion (and a few NDAs) prevent her from telling you about them all, check out:
The Total Me-Tox: How to Ditch Your Diet, Move Your Body and Love Your Life (By Beth Behrs, with Wendy Shanker)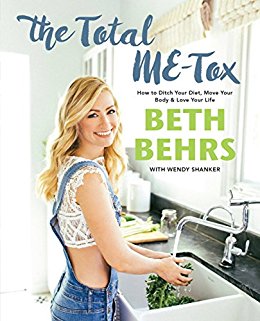 Buy the book The Total Me-Tox on Amazon
Before hitting her stride as one of Hollywood's hottest rising stars, Beth Behrs was a junk-food-loving couch potato, high-strung and stressed out. And then one day, she decided she'd had enough: she was going to take back her life. Beth began with simple steps that led to big changes-and now she wants to help readers do the same.
In The Total Me-Tox, Beth shares her journey toward wellness, along with easy-to-follow healthy recipes, shrewd shopping tips, and fun living-room fitness routines (a.k.a. "Meh Workouts") designed to revitalize and inspire even the laziest among us. As entertaining as it is instructive, The Total Me-Tox is an achievable program for looking and feeling great about yourself.
The Total Me-Tox in People Magazine!
---
BOOK PROPOSALS AND FULL MANUSCRIPTS
For Wendy, it's been a natural leap to move from script- and speech-writing with clients to helping them write larger scale projects, including book manuscripts. Wendy has written personality-infused book proposals on a variety of topics including pop culture, body image, women's issues and female leadership. Her first co-written book is The Total ME-Tox: How to Ditch Your Diet, Move Your Body & Love Your Life (Hachette Book Group), with actress Beth Behrs (CBS's "2 Broke Girls.")
Wendy Shanker is a DREAM collaborator. Not only did she immediately tap into my 'voice,' she also tapped into my heart.  I truly loved every second of working with her and I'm so proud and lucky to have her as a co-writer and a friend." Beth Behrs
For more information about ghost and co-writing with Wendy, contact:
Madeleine Morel
2M Communications Ltd
19 West 21 Street Suite 501
New York NY 10010
212.741.1509
Fax: 212.691.4460
Click HERE to contact Wendy about rates, availability and sample work.